District Bar & Grill
Location & Contact:
205 W. State St
Rockford
,
IL
61101
815-977-4524
Email Us
View our Website
View our Menu
View our Facebook page
View our Twitter page
Box Office
Upcoming Shows
Description:
Now delivering lunch Monday through Friday from 11 am to 2 pm; Breakfast, afternoon, and weekend Delivery possible upon request
District Bar and Grill is your Downtown Rockford destination for delicious food, great drink specials, and the very best live entertainment the Stateline has to offer!
We serve Breakfast Monday through Friday from 7 am to 11 am, and 11 am to 2 am Saturday & Sunday
WE HAVE VIDEO GAMING - Highest payouts in the Stateline - visit the Illinois Gaming Board's website to see it for yourself!
We are the area's hottest bachelorette/bachelor party destination! Call us today and ask to speak to a manager about arrangements for your party.
Great service and plenty of seats and TVs to watch the game.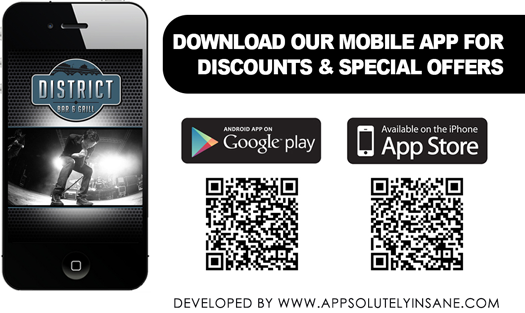 Hours:
Monday: 7:00 am - 2:00 am
Tuesday: 7:00 am - 2:00 am
Wednesday: 7:00 am - 2:00 am
Thursday: 7:00 am - 2:00 am
Friday: 7:00 am - 2:00 am
Saturday: 11:00 am - 2:00 am
Sunday: 11:00 am - 2:00 am
Type of Meals Served:
Lunch

Dinner

Coffee

Drinks


Price Range:
$ 10 or less per meal
Payment Options:
Cash, Credit, Debit, ATM, Visa, MasterCard, Discover, American Express
Reservations:
Accepted
Specials/Events
District Bar & Grill
Every Monday Tuesday Wednesday Thursday
At 7:00am - 2:00am
District's choice…Read more
District Bar & Grill
Every Monday Tuesday Wednesday Thursday
At 4:00pm - 6:00pm
Monday through Thursday from 4 to 6 PM $3 Cheese Quesadillas, Chicken Tenders Appetizer, Mozzarel…Read more
District Bar & Grill
Every Wednesday Thursday Sunday
At 5:00pm - 8:00pm
KIDS EAT FREE from 5 to 8 PM ***"Kids Eat Free" consists of 1 FREE Kids Menu item for each paying…Read more
Report incorrect information